Be Circular Annual Meeting 2017
21/08/2017
|
Bruxelles Environnement
|
The Brussels Capital Region gathers the pioneer cities of the circular economy
Eighteen months after the launch of its regional programme for a circular economy, Brussels presents its first results and hosts Amsterdam, Glasgow, Lille, London and Paris to put them in perspective at the BeCircular Annual Meeting 2017. Governance, financing, construction, logistics… find out how these pioneering European cities reinvent the economy to meet economic, social, demographic, health, climate and environmental challenges.
The Brussels-Capital Region committed to the circular economy and in March 2016 launched an ambitious programme to engage in the transition of its economy. To ensure the success of this transition, the region intends to pool efforts with other cities and regions of Europe, and work together towards the emergence of new ideas and collaboration.
This is why we have invited representatives from other European cities already very involved in the circular economy (Amsterdam, Paris, Glasgow, London and Lille), in order to view in parallel the actions taken by Brussels and other cities to transform their economies into circular systems.
With more than 350 professionals present (companies, public authorities, federations, associations, etc.), come and take part in discussions and provide solutions for the economy of tomorrow.
Program
Discover the detailed program here. Simultaneous translation in French/Dutch/English will be available during the whole event.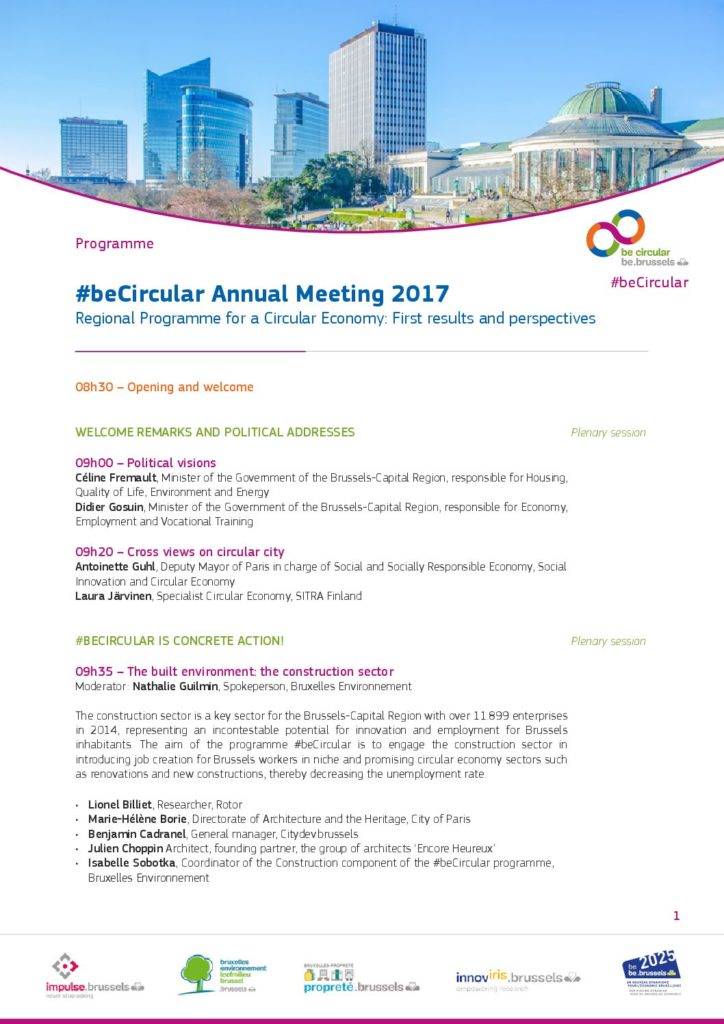 Presentations
Morning Presentations: PREC-beCircular-MATIN_Final
Workshop Collaboration: PREC-beCircular-TR6_Collaboration
Workshop Innovation: PPT_Be Circular Annual Meeting_Innovation
Workshop Employment – Training: PPT general Emploi Formation
Workshop Financing : Présentation Be Circular TR Financement EC
Workshop Public Procurements: PREC_beCircular_TR3-MP_TOUT
Workshop Governance: PREC-beCircular_TR_Gouv_FINAL
Practical information
Tuesday September 12th 2017 fro 09h00 to 17h00 in Bruxelles-Environnement's new building at the BEL in Tour & Taxis (Avenue du Port 86c, 1000,Bruxelles)
Speakers